Compo Company Project Pt 1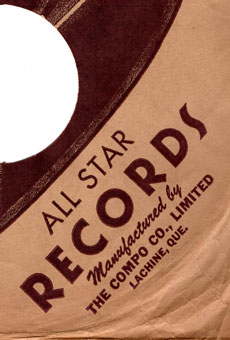 The Compo Company was a record-pressing plant based out of Montreal that operated from 1918 to the 1970s, bearing witness to and playing an active role in the development and growth of the record industry in Canada.
In 2021, ARCMTL teamed up with the Musée des Ondes Berliner to research this important company and to collaborate on a project to digitize hundreds of rare discs from each organization's collections. This project was made possible thanks to funding from the National Library of Canada's Documentary Heritage Community Programme.
As well-detailed in this article, the Compo Co. of Lachine, Québec (now a borough of the City of Montreal) was hugely important in the story of recorded Canadian music.
Compo had its own labels such as Apex, and as a partner and later subsidiary of the Decca Records empire, it manufactured a huge amount of the popular American and overseas hit records for the Canadian market.
ARCMTL's mandate is to both promote and preserve the works of independent artists, and so the long history of the Compo Co. manufacturing small and independent record labels and self-produced recording artists is of great interest. Among the thousands of recordings amassed at its archive centre are hundreds of discs pressed by Compo. A selection of approximately 150 of these were digitized in 2022, and this edition of Montreal Sound Ark presents a first batch of these tracks for you to discover!
The programme aired on Friday, May 20, 2022 on CKUT radio in Montreal (stream or download it from their archives page here).
Here are the songs in order of artist – album – title. For 45 RPM singles, only the artist and title are listed.
Melody Makers, s-t, Bedrock Boogie
Melody Makers, s-t, Hell Boogie
Frank Motley and his Motley Crew, Swingin n Rockin, Frankie and Johnny
The Mark IV, s-t, Little Girl
The Mark IV, s-t, Mad Dog
The Champs, On danse au carnaval, Three quarter mash
Les Sharades, Goes Tijuana Vol. 1, Discotheque
Les Sharades, Goes Tijuana Vol. 1, Tu Te Souviendras De Moi
Les Sœurs Gallant, Les Hommes De 40 Ans
Fritz Pereira et ses musiciens, Caprices d'Haiti, A Tes Pieds
Fritz Pereira et ses musiciens, Caprices d'Haiti, Est-ce Ma Faute À Moi
Fritz Pereira et ses musiciens, Haiti – Québec, Quand Le Soleil Était Là
Fritz Pereira et ses musiciens, Haiti – Québec, Loin Des Yeux, Loin Du Coeur
Fritz Pereira et ses musiciens, Haiti – Québec, Ballade
Fritz Pereira et ses musiciens, Haiti – Québec, Our Day Will Come (instr.)
Bob Rusk, Bravo, Heart Made Of Stone,
Bob Rusk, Bravo, Quando Quando
Les Intrigantes, Nous Voici
Les Champions, Funky Champion (Instrumental)
Jimmy Bond, Soleil (Daybreak)  Madeleine Chartrand, J'ai Du Bon Tabac
Billy Horne, The Voice of Billy Horne, Now That You're Gone
Billy Horne, The Voice of Billy Horne, I Cried For You
Ben Denommé Et Son Orchestre, C'est au café provincial, Visa pour la Lune
Jean Beaulne, Le nez dans un miroir
Jean Beaulne, From Japan to America
Les S.T.P., Les Gens d'Aujourdhui
Les S.T.P., Petite Fille (Trop Jeune)
Expedition Live, Miles Away
Expedition Live, Don't Know 'Bout You
Michel et la 4ième Volonte, Fais attention (je suis un homme)
Michel et la 4ième Volonte, Fille de terre des hommes
La Revolution Francaise, J'aime une Fille aux Yeux D'or
La Revolution Francaise, Y'mouille A Sciaux
Marius Cultier, Les Araignees
André Marcoux et son orchestre, Anita Vol. 1, Angel Jean
Mathieu, Matagami Blues
The discs and album covers were also documented for the project – here is gallery of images of the discs played on this show: