ABOUT ARCMTL
For more than two decades, ARCMTL has served Montreal's community of emerging artists and writers, connecting them with new audiences and providing a platform for archiving their works. Established in 1998 with a dual mandate for promoting and preserving independent culture, ARCMTL has become an integral player in Montreal's cultural milieu.
Promoting the arts
Its flagship small-press fair, Expozine, showcases print publications of all kinds—books, graphic novels, zines, and more. Now in its nineteenth year, Expozine boasts some 270 vendors and 15,000 visitors, and is among the best-known events of its kind worldwide.
In 2018, ARCMTL launched Volume MTL, the city's first annual fair and conference dedicated entirely to art books. The organization is also a founding partner of the Montreal Printed Art Festival. As part of this festival, ARCMTL organizes the annual GRANDE Print Art Fair, a gathering of more than 50 artists and organizations from Montreal's printmaking and poster art community. ARCMTL's Distroboto initiative, a unique network of small-artwork vending machines, was featured in the New York Times as an "Idea of the Year" upon its début.
Preserving the arts
ARCMTL also maintains a documentation centre featuring a substantial archive of Montreal history, of Canadian literary and artistic publications, music and spoken-word recordings, oral histories, audio-visual documents, prints, artworks, and various ephemera. Located in Montreal's "Mile Ex" neighbourhood, the centre sees intensive use by artists, curators, academic and heritage researchers, and others. The documentation centre can be consulted by appointment only, contact arcmtl@arcmtl.org for more information. Digitized archives and documentation are also available via our Youtube channel and its collections of videos, including a playlist of ephemeral films and home movies. There is also a collection of Montreal zines and magazines on our page at archive.org and a website dedicated to documenting the 1960s – 1970s Montreal underground scene.
ARCMTL prioritizes digitization to preserve and ensure access to fragile or rare items, and media nearing obsolescence, such as magnetic audio-visual reels, cassettes, and videotapes. More and more, digitization is essential both to preserve materials for posterity and to ensure that the collection serves the widest possible public. Among local heritage organizations, ARCMTL is a digitization pioneer, with established, effective workflows and procedures for digitizing cultural artifacts, and a wide range of these materials available online through various platforms.

Community
ARCMTL is an active participant in the city's community of specialized archives, small museums, and heritage organizations, promoting its artists and archives via collaborations with partner organizations throughout the year.
The organization regularly lends rare or unique materials from its considerable collection to local museums, galleries, or other institutions for exhibition purposes, amplifying and advancing its mission to broaden public knowledge and appreciation of Montreal culture. Regular partners include the Musée Afro-Canadien de Montréal, CIDIHCA, the Canadian Centre for Architecture and the Musée des Ondes Emile Berliner — with whom ARCMTL co-hosts Basement Tapes Day every fall since 2020 — and the Bibliothèque et Archives nationales du Québec.
Each year, ARCMTL engages the Montreal public directly with various cultural heritage activities. With its participation in the annual Home Movie Day, for example, Montrealers are invited to dig up their personal home movies and learn about how they may be digitized and preserved.
ARCMTL also hosts a weekly radio program, Montreal Sound Ark, on CKUT 90.3 FM, McGill University's campus community radio station, featuring rare treasures from its audio holdings of local music and spoken word recordings. With this popular show, ARCMTL draws listeners' attentions to a host of less well-known Montreal artists and music, while also publicizing its various events and activities.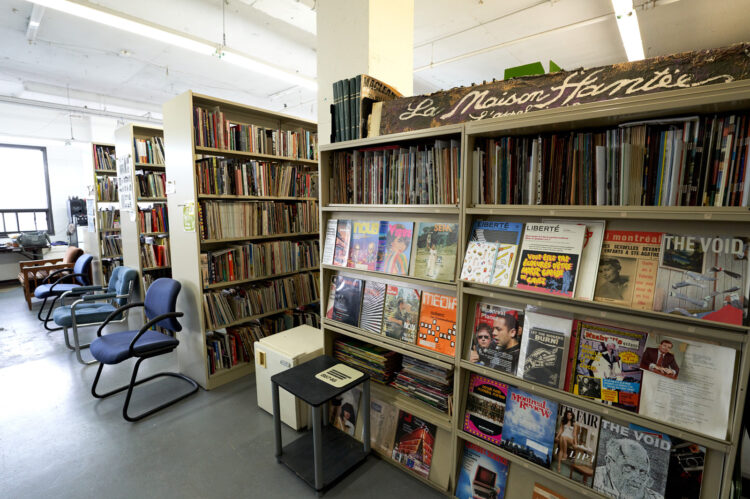 In the twenty years since its establishment, ARCMTL has helped grow Montreal's cultural community and international reputation, continually expanding its partnerships with other festivals and organizations while promoting new opportunities for independent artists via workshops and conferences. In recognition of its unique contribution and impressive track record, in 2016 the Conseil des Arts de Montréal named ARCMTL a finalist for its Grand Prix award, and its current director Louis Rastelli received the Judy Mappin Community Award from the Quebec Writers Federation in 2019 for ARCMTL's importance to the local literary milieu.
ARCMTL's preservation activities involve the ongoing acquisition of independently produced local cultural artifacts and publications — from books, zines, records, CDs, cassettes to more ephemeral material such as promotional posters, flyers, found footage, etc.
If you have material of this kind that you don't need anymore, we'll gladly take your old zines, books, posters, photos, cassettes, films, vinyl etc. for conservation in our archive ! If you publish your own books or zines, print posters or other printed art, or put out local music, we could also add copies of your recent work to our collection.
You can email us at arcmtl@arcmtl.org for more information on the archive, on how to consult it or to arrange a pick-up or drop-off of your stuff. You can also contact us by mail :
Arcmtl, C.P. 55052, CSP Fairmount, Montréal, QC H2T 3E2
ARCMTL's operations are made possible in part thanks to the support of the many participants and sponsors of its arts promotion projects, conferences, and festivals, as well as thanks to the generous financial support of the following: Eric T. Webster Foundation, Canada Council for the Arts, Canadian Heritage, National Library of Canada Documentary Communities Heritage Programme, Conseil des arts et des lettres du Québec, SODEC Québec, Conseil des arts de Montréal, Ville de Montréal.