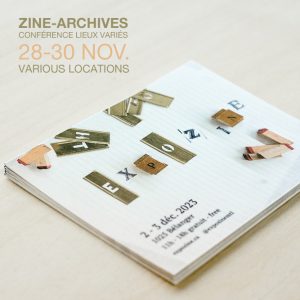 Expozine 2023, coming up December 2 and 3, 2023!
Expozine 2023, Saturday December 2 and Sunday December 3. 11 a.m. – 6 p.m. 1025 Bélanger (Église Saint-Arsène), Jean-Talon métro, accessible venue. Free admission. Here is the Expozine 2023 Facebook event ; you can also follow and share posts on the Instagram account, @expozinemtl , #expozine2023 !
Don't forget to check out our Youtube channel and its collections of videos, including a new playlist of ephemeral films and home movies. We've also placed a collection of Montreal zines and magazines on our page at archive.org .
Also, last December we launched in partnership with the Afromusée a new website that features an interactive story map about the history of important arts and cultural venues called Nights of Montreal.
If you'd like to consult the archives at our archive centre, please contact us by email to make an appointment.