Volume 6 MTL: Future of Art Book Fairs in Canada
Art book fairs in Canada in 2024 and beyond
The following is an edited transcript of a discussion held as part of the Volume 6 MTL art book fair and conference, on October 15, 2023 in Montreal.
In 2023, only Volume 6 MTL was held in Canada, after a hiatus from the Vancouver Art Book Fair and the fairs that had taken place in Toronto and elsewhere before the pandemic. The international art book fair circuit, however, is still going strong.
This panel discussed where the Canadian fairs should position themselves in the near future, in order to regain the momentum that was disrupted by the pandemic shutdowns and integrate into the international scene.
The discussion included Jonathan Middleton, executive director of Toronto's Art Metropole and member of the coordinating team of the Vancouver Art Book Fair; Harley Smart, publisher and book designer with Anteism and Bookart; Agathe Piroir, publisher of fine artist's books with Studio A. Piroir, and Louis Rastelli, administrative coordinator, Volume 6 MTL.
Discussion with (left to right) Louis Rastelli, Jonathan Middleton, Harley Smart, Agathe Piroir

Louis Rastelli: One thing we're curious about, as we get back to business coming out of the pandemic, is rebuilding a circuit in Canada of fairs.
When I say a circuit, there should be a bunch of different dates during the year that people can plan for. And, perhaps the East Coast, West Coast, take their own seasons for fairs.
At this point, we're kind of all just trying to re-evaluate our place in this circuit. So, I guess starting with Canada, it sounds like we're the only one that made it in 2023 coming out of the pandemic.
But, it's great to hear we may come back to having a Vancouver one. There's news now that there may be a spring fair in Halifax. Somebody might be considering an Ottawa one. But one question would be, well, a question for our organizers and for participants, is what seasons and what times of year to do this in.
How do you see the importance of trying to settle in to a period or a month for Vancouver, for example?
Jonathan Middleton: Well Vancouver is the longest running art book fair in Canada.
I think it's over ten years old now, as a fair. And so when it started, there was a kind of idea that people would maybe travel to New York from international locations, Europe, and further afield with Asia perhaps. And then, Vancouver was planned in kind of early October with the idea that some organizations may stay within North America, continue on and go to Vancouver. So, when myself, Sharon Bradley and Kate Wolfe came on as a planning team, one of the things we looked at and pitched to the board was how much has changed since that time.
There's really been an explosion of fairs. San Francisco is typically in July. Seattle, which was delayed because the pandemic now seems to be settling into a May routine. And we were also looking within a kind of international sphere, like Melbourne is usually in the spring. On the more Eastern fairs – Detroit, Montreal, New York, all these fairs were happening more in the autumn, so, it seemed that would be a nice division of East and West in terms of the continent.
We're not really settled on a date, as I said, but, of course as you pointed out, Printed Matter's fairs, which are of course, huge fairs and very influential fairs. Having their schedule move, at least temporarily, has confused that decision a little bit, but ultimately I see it starting working out that way.
Agathe Piroir: Me, everything is at the same time. In September, October, I've just done Salon des Livres Rares in Paris, and I flew from Paris to San Francisco, another fair. And 24th October, I go to the FPBA [Fine Press Book Association] and I can't do Toronto because it's the same time as FPBA's.
September, October, and spring has nothing. I do Codex and the FPBA again in February, but then nothing.
Louis Rastelli: You would want it maybe more spread out in the fall, yeah?
Agathe Piroir: Yes. Too much in the same times. It's kind of exhausting.
Louis Rastelli: But your productions don't come out at specific times a year at the same time…
Agathe Piroir: No, it is when I finish…
Louis Rastelli: As publishers, both Harley and Jonathan are publishers as well– we know the concentration historically in the fall for book fairs. But, as art publishers, now that we have kind of a year-round international circuit, does it still apply? Is it still important to launch things in the fall? You've got some new books out now…
Harley Smart: It just happens to be the fall for our releases right now. I think a lot may, maybe it is the case with Art Metropole flow, but a lot of that schedule is tied to the book trade. You know, like fall catalogues that go out and roll out.
I'm not in the book trade proper, you know. We've operated largely on like a direct sale, and we stick to our own schedule, and we kind of just adapt to the fair schedules, if at all. I was just thinking about in the spring here, what do we have? We have like the Papier fair in Montreal now?
Louis Rastelli: Historically, we've been doing the print fair, it fits well for universities, because we have all the end of year graduate exhibits and activities.
Harley Smart: Yeah, I feel like the art book fair, like Volume, maybe tying it alongside or parallel to the art fair. When you're thinking about who the clients are, the customers, who the attendees are going to be. As it is now, Volume's kind of back to back, Expozine coming up soon after, right?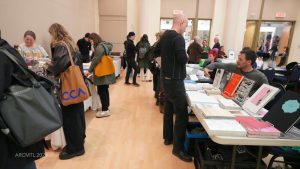 Louis Rastelli: Yeah, yeah. Do you submit your books to catalogues, do you send the blurbs out in the winter?
Jonathan Middleton: We're making a fall catalogue, so it's not so much that we're submitting to… because ArtMet, I've enjoyed this description of it from an article in the 80s describing ArtMet as platypus-like. So, we're a little bit of this and that, and one of the things I think was very core to the organization's history, was this idea. So, we're now in production for our second wholesale catalogue, and we're now kind of at that point where we do like a fall, winter, that's our main catalogue and then we do supplementary catalogues that are online.
I think that the idea of the fall delivery for books is probably tied ultimately to the winter holiday season. It does make a difference for us, but it's not as much a difference as maybe the literary book trade.
In terms of market cycles, we usually just work on multiple things all year round. We also are attending, I think I've attended probably 15 or so different fairs, and then multiple iterations of those. And Art Met has a long history of going to Art Basel, so that's where we go.
I think that actually has had a whole influence on, ultimately, the whole art book movement. If you think of Art Basel, Art Met and Art Basel, since 1976 to AA Bronson, while he was at Development New York Art Book Fair. The kind of link between those two things. And then ultimately the explosion of art book fairs in the world is a lineage there perhaps.
I think we're always in this position of imagining that we work in a trade cycle, because what we do resembles that, but we're also… I keep on trying to kind of draw the comparison to a theatre or, dance group, where you think of bookstores or distribution outlets as theatre venues, and then the production of books as a production of a play or a dance piece.
All of these that need support. You know, because of course there are ticket sales, but tickets only accounts for a certain amount of the economy of those presentations. Um, I'm probably way deviated from your question now, but…
Louis Rastelli: Well, it's interesting. We're very tempted with Volume to move to spring … If New York sits in the spring, yeah, because now I guess it's set for May, is it June, April?
Jonathan Middleton: April.
Louis Rastelli: April, New York Art Book Fair. I mean, Halifax, Montreal, New York. We have the same idea that people could come to New York from Europe. Stay for Volume or come earlier.
Harley Smart: This decision to do it, it goes mostly based off like the academic calendar.
Louis Rastelli: Um, yeah. You don't want to do it after students are all gone because lose a lot of energy for the fair. If we're able to pick successive weekends…
Jonathan Middleton: I'm aware this will be a transcript that's going to be circulated. So, it's interesting because we're speculating on some to some degree here. My understanding is that New York being pushed to the spring is maybe a temporary choice, and was probably influenced by the fact that Printed Matter had some challenges securing a venue for L.A.'s Art Book Fair. So I don't know that we should be shifting the calendar according to something that's maybe an anomaly.
Louis Rastelli: Well that's the thing, that's partly why I figured the topic is 2024 and beyond, because it might take a good two or three years for things to settle down again.
The other thing though, with trying to be not at the same time, is so we can try to exchange programming ideas, send artists to each other's fairs. I think all the fairs in Canada should be talking to each other and pitching programming ideas.
Jonathan Middleton: I guess I'm interested in also what, you know, a partnership would look like. From the market part of a book fair which varies tremendously.
Some book fairs, some people do very well, financially. I don't feel like I ever have, it's always been important to get things out into the world and the networking. But, I guess the question we've been thinking about with that kind of art book fair is like, what do we need from art book fairs as well, apart from just being a marketplace and maybe a point of education around the scope of publishing, and how can we make them more effective, you know – discursive events, how can we make them more effective networking events for the people who are tabling. Because now we have so many of them.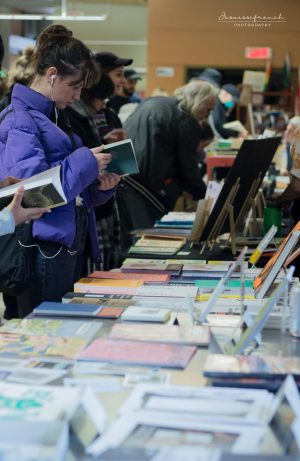 And, and they are somewhat in competition with one another, in as much as they support one another. I think it's worth, with also seeing are there parts of this, now that maybe might need to be retooled or reinvented. I'm curious what you think about that.
Agathe Piroir: On my side, I'm not an organizer, I'm a customer, I pay for my table or my stand. For me it's to sell my books. I get a few grants because I apply for some projects, Conseil des Arts du Canada, as an art dealer…
Louis Rastelli: Because you promote Canadian artists.
Agathe Piroir: Yes, exactly. But, what I want to know when I do a fair – can I reach my customer or not.
Some work really well for me, some I just do not do again. Sometimes I try others, I put the money into it, I do the travel and etcetera. Some I just never go to again.
Louis Rastelli: So how do you decide the, you look at the past editions, the participants, and I guess…
Agathe Piroir: Yes. I just make some calls. I mean, it's a small world. I'll call some people, What did you think of this fair?
Harley Smart: Why is one good fair good for you and some not? The organization, how they market…?
Agathe Piroir: uh, the organization. Also for example, Codex is every two years—it's enough. But the people come up through the world, for this and for example, the Salon du livre rares de Paris. Where you have rare old masters' prints, antique manuscripts. And it's really, really expensive. I'm in the low price with my books there, which start at $800.
Louis Rastelli: So at Volume you're on the high end, but then there you're at the low end.
Agathe Piroir: Yeah, exactly. Whether the organization can reach my customers or not, it's a long-term thing.
Louis Rastelli: You have to cultivate the audience.
Agathe Piroir: Yes, and this is the job of the organization. I think it's really important the organization know where it is and what it wants to develop, because the book space is really, really deep. I mean, you can't…
Louis Rastelli: It's a large spectrum of different varieties…
Agathe Piroir: Yes, yes, it's a lot. And this is important. The fair I take part in should know the other people who do the same kind of work we do and bring them in.
Louis Rastelli: If a good fair cultivates a reputation, internationally booksellers say, Okay, this year I'll do that one. It becomes an obvious choice, and so you can really build your brand and your audience.
From what I understand, AA Bronson took wind of Expozine from 2002 to 2008 or so. We had a lot of New Yorkers coming Montreal for Expozine. A lot of them went back, started the Brooklyn Comic Arts Fair, and the New York Art Book Fair was a bit inspired in a way by Expozine too.
I find your experiences interesting because you started out more in the zine fairs, then it was right after five or six years of Expozine, and you were in very early on when the art book fairs started.
Harley Smart: Yeah, that was part of a program with the Canada Council Emerging Publisher Programs. Yeah, they encouraged us to get out and they really wanted the publishers to develop distribution, and part of that was like, they're paying travel grants, and they're helping get us down there, and we have the Canadian cohort.
And, you know, Sundays we'd go get together with AA Bronson and all the Canadian publishers and we'd discuss distribution and the problem there. And it's always been the main topic amongst the publishers of course. But, we were never really, I guess we did a bit of zines early on, but, we were just, kind of guided by the Council to go towards the trade.
And they wanted us to do the minimum print runs– part of that, the definition of a publisher for the funding, at least, was that you're doing a minimum print run of 300 copies and you're showing the title analysis development, you're making these efforts to get into the trade and follow that schedule, which was informing the fairs and everything.
But it never really caught on for us. I felt like we were coming into it after digital print and POD [print on demand] and, I felt like it was already kind of shut a bit. It's really difficult to get into trade and it's not beneficial too for a lot of publishers, I found, even today. The return, unless there's some funding agency behind you, or a gallery, or somebody that's covering these expenses, we just always had trouble getting into the trade and making it work without just losing our shirts on it, returns and everything.
So we've always been going towards more direct distribution through web sales, and then at fairs.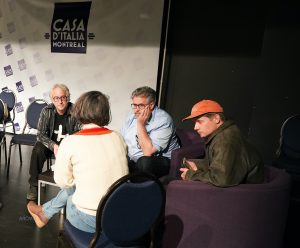 Louis Rastelli: Do you do pretty much all the North American fairs?
Harley Smart: Oh, no. No, no, no. I mean, we do, we do L. A., we do Edition Toronto, we do the New York Fair. Um, we do the Vancouver Fair occasionally. Ryan comes out with that. Yeah, that's it.
Louis Rastelli: à Has it helped the times you've been part of the programming?
Harley Smart: Oh, yeah. Even just to, even just to attend. I've always appreciated the programming. I'm often missing what I wanna see because I'm tabling. But, it's nice, like New York, they have the program for publishers when you get together, like peer kind of group. But the public programming is always incredible. And I wish I was a just an attendee for these things 'cause I would catch a lot of that. And I think it's important offering.
Jonathan Middleton: That's one of the things that we've been talking a lot about is that it's hard when you're tabling, many organizations can only afford to send one person to the event.
So if you're tabling, you don't listen to the lectures. We've been talking about, for the VABF [Vancouver Art Book Fair], do we just plan sort of like what you have, like a lead up week of lectures, but maybe we plan it as a real conference, and then we'll just have one afternoon of tables, you know, with a smaller amount, so that the focus can be on kind of a discursive part. About 20 years ago, RCAAQ [Regroupement des centres d'artistes autogérés du Québec] organized such a conference in Quebec City. For me, that was tremendously influential.  Publishers like Christophe Keller and… in Frankfurt, who ultimately, influenced me to resuscitate Projectile Publishing Society that became the backbone for Filip and New Documents.
I think we're gonna ultimately try to find some sort of hybrid between, something where you can take not just the public program for the attending publics, but actually can be for the people who are traveling.
Harley Smart: Yeah, for sure. L. A. had that this year. They have like a large site complex. They hosted all the talks and programming for the fair. So, it was off site, but they coordinated, so it was outside fair hours. Like the fair was like 11 or 12. until 5 or 6 and they were a morning and evening program.
Agathe Piroir: Codex is the same thing. Codex in the morning, we do this conference and stuff.
Jonathan Middleton: Interesting.
Louis Rastelli: I think it's important to consider the activities like that. When we originally thought of New York Art Book Fair with Volume right after… We were like, well, geez, if it's a whole week later, if we don't have activities during the week, maybe some of the overseas publishers will be like, well, I'm not gonna stick around New York for five days.
So part of the idea was that, you know, there could be a continuity of activities.
I shouldn't forget to mention that on the organizing side and on all of our sides, because this has only existed for about 10 years, the art book fairs, in this new modern sort of version. We still have the job to promote the fact that art books exist, artist books exist. There's a ton of publishers, essays, writing about art, writing about art that's changing, that's cooler, there's art zines and all kinds of stuff.
So we actually still need to have this kind of programming, and in our case we try to have visits to the places where the artists are, the printers are. Maybe some of the other cities' fairs have done this long enough that they don't have to sell the idea of an artist book or an art book fair.
But in Montreal, I mean, we have yet to get a decent article. Anything. There's still a challenge. There's so much cultural offering in the big city. We still need to have that in the back of our mind. Not forget to tell everybody, "hey, this is actually a thing." And I think that if we can manage a year or two of developing fairs and the circuit in Canada a bit more, the potential is enormous.
We have, you know, most of the city has no idea what this is or that this is happening. In Canada, we have a lot of work to do to get recognition.
Agathe Piroir: I think you have the recognition when it's been around for really long.
Louis Rastelli: It's been around a long time.
Agathe Piroir: Yes. It needs so much time. And, uh, and I think for the organization to stick.
Louis Rastelli: It reminds me, during the pandemic, we did a web version, and we tried not to stop Volume. Volume three, Volume four is when it was supposed to take root more and build a reputation.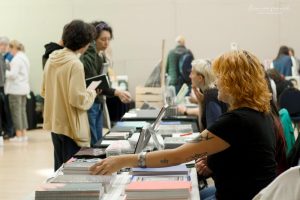 Harley Smart: Maybe Volume could be held at the MAC or the CCA, like, why not? Like, look at the, in LA, New York, these are happening at the Contemporary Art Museums. And, you know, occupying the facilities there, I think, just push that direction. Like, let's partner up Volume with the CCA.
Louis Rastelli: We've pushed a lot of different avenues, but I think CCA is, I've always thought that would be a perfect partner and place.
Jonathan Middleton: We attended Off Print London, which is held at the Tate Modern, and honestly it's a great thing having the fair connected to a museum because you have the museum's regular attendants, the people who are just going to the Tate because it's an important museum, it's free, all these things. And the turbine hall is also the right size, not too large, not too small, it's good.
So our event, the book fair had for many, many years was held at the Vancouver Art Gallery, more recently moved into Emily Carr. But that was something we've been talking a lot about is that how do you partner with an organization so there is a natural, like a built in baseline attendance that then all of your promo, promotion, all of your posters and web ads and everything else can build on.
So that, and something that's central enough in your city. That it's already, a point where people are passing through and, Oh, I'll go, I know there's something happening this weekend.
Louis Rastelli: Those relationships are super important, they can be quite tricky. I've had a hard time with it here, but I know that I'm jealous of Toronto because their equivalent, the Grand Bibliothèque, hosts the TCAF every year. CanZine has been held at the AGO.
When we started with Volume we consulted with ARCA, the Association of Artist-Run Centres of Canada.
Jonathan Middleton: ARCA was sort of trying to build a publishing movement alongside other groups, but out of that did come this TXT discussion group online. We might want an association of art book publishers and distributors, something that could bring a lot of these voices to the table and make it united enough that we can actually also, you know, lobby or advocate for the needs of publishers.
Louis Rastelli: I think it would help publishers. It could start small as a sort of a discussion place.
Agathe Piroir: I think it's a good idea to bring together all the publishers like me and others from Canada and the organization. Not only the organization, but also the publisher.
I think it's a good idea to have a space where we can talk, outside of each organization.
Louis Rastelli: Yeah, yeah. Do you have any final thought of where things should go?
Harley Smart: I'm going to miss, honestly, the odd, like, adapted programming that we had through COVID.
I thought it was really strange and fun. And experimental. So, yeah, I prefer in person. Yeah, of course, like, I want to hold the book. But, you know, all the ways we were exploring books remotely, we were attending fairs and showing our books remotely, I thought there was a lot of interesting experiences that came of that. So I think we should try and retain some of the good points from that, from that time.
Jonathan Middleton: I think that's a good point. There's a lot of stuff that we learned over the pandemic that we maybe are abandoning now that we shouldn't totally abandon.
The fact that it's very easy to do a webinar or, you know, event and, and broadcast. It has a lot of accessibility that's important in terms of, um, being able to facilitate translation or interpretation and so on.
I think it's interesting to look at models like the Brooklyn Art Book Fair that operated basically as like a single point of sale for all of their vendors. Not to say that that's the way to go, but I think there's a lot of these models in terms of thinking about how we can kind of reinvent the fair.