Grande Printed Art Fair and FAIMTL 2022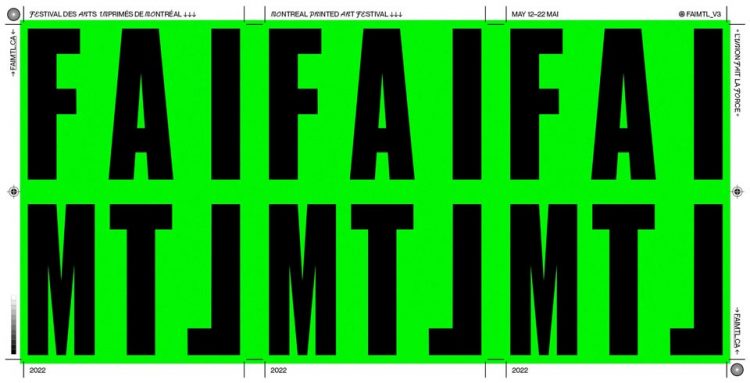 ANNOUNCING the Montreal Printed Arts Festival – Festival des Arts Imprimés du Québec
GRANDE Printed Art Fair Saturday May 21, free, noon – 7 pm WIP, 3487 Saint-Laurent
– over 30 artists selling their prints directly to the public (See Facebook event here)
– workshops and activiites for children, youth and the not-so-young interested in trying out artisanal printing
– exhibits of amazing art prints running through to the end of May
The Montreal Printed Arts Festival showcases the impressive vitality of the printed arts milieu in Quebec. This third edition is a rare opportunity to see the growth of this artistic practice via a programme of exhibits, artist presentations, demonstrations, workshops, conferences and the Grande Printed Art Fair. These free activities show the evolution of the printed arts as well as hybrid and multidisciplinary practices.
The headquarters in 2022 return to the site of the last pre-pandemic edition, WIP (Work in Progress) at 3487 Saint-Laurent. The site will host launches of printed works and zines and presentations on Friday, May 20 from 1 to 7 pm, as well as a printing workshop for children and zine workshops at the Grande Printed Art Fair on Saturday May 21.
Satellite events will be held at the many partner venus of the festival, including:
Not to be missed!
Consult the website for more information about programming.
For any questions, contact us by email.
The Montreal Print Arts Festival is organized by ARCMTL,  Arprim, Zocalo and the Faculty of Fine Arts of Concordia University, and is made possible thanks to the support of the Conseil des arts et des lettres du Québec.