ARCMTL Hiring support position for archives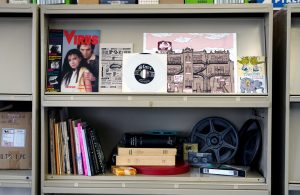 ARCMTL, a non-profit organization which preserves artifacts from Montreal's independent arts scene in various disciplines and in both official languages, wishes to hire an archival assistant.
ARCMTL is currently undertaking a major upgrade to the storage and organization of its special collections and archives. One of the archival assistant's tasks will be to assist with this project, which will involve moving, labelling, re-shelving and arranging items.
The archival assistant will also assist in the digitization and cataloguing of video, audio and graphical items from the ARCMTL archives and special collections, to support online exhibits and projects planned for winter and spring 2022.
Some materials will be the subject of online exhibits and presentation projects planned for winter and spring 2022.
The candidate should have knowledge of and interest in the literary, music and-or arts community in Montreal.
Location: Montreal, Quebec.
Rate of pay: $15.00 hourly, average of 24 hours per week. Start date: November 9, 2021
End Date: March 31, 2022
Among the tasks to be undertaken:
Physical organization and cataloguing of materials in preparation for reshelving.
Conducting research as needed to verify basic identification information about items to prepare for digitization and description tasks.
Assist in the digitization of varied audio-visual material, audio material, flat files and publications.
Requirements:
To submit an application, please send a resume with cover letter by email with "Archival Assistant Job" in the subject headings to arcmtl@arcmtl.org. Deadline for applying: November 5, 2021.